A Wood-elven bed is a new type of bed which can be found in the Wood-elf houses of Mirkwood. They function just as regular beds.
Note, that player respawning is changed by the mod. Follow the link for more details.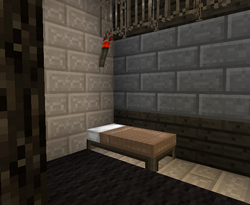 Crafting
Edit
Wood-elven beds have to be crafted on the Wood-elven crafting table. Before Public Beta 29, only Mirk-oak planks could be used, now any type will do. Wool of any colour can be used.
Ad blocker interference detected!
Wikia is a free-to-use site that makes money from advertising. We have a modified experience for viewers using ad blockers

Wikia is not accessible if you've made further modifications. Remove the custom ad blocker rule(s) and the page will load as expected.