This article is about the beverage, if you search salt water, you might find it here.
Water is ... well, just what its name implies: Water filled into some vessel for drinking or crafting. It is created when you take any empty vessel and right-click on a water source or any other water filled vessel, cauldrons included.
The drink is not alcoholic, doesn't give you any buffs and doesn't fill you up any; you can't even use it as a brewing ingredient, unless filled in buckets. The only use of this item, as of Public Beta 25, is for making lemonade and for decoration.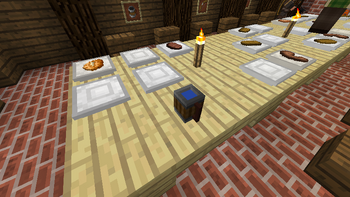 Non-alcoholic:

Apple Juice •
Berry Juices •

Chocolate •

Grape Juice


Lemonade •

Mango Juice •

Milk •

Orange Juice •

Pomegranate Juice •

Water
Alcoholic:

Ale •
Araq •

Banana Beer •

Cactus Liqueur •

Carrot Wine •
Cherry Liqueur


Cider •

Corn Liquor •

Dwarven Ale •

Lemon Liqueur •

Lime Liqueur •

Maple Beer

Mead •

Melon Liqueur •

Perry •
Plum Kvass •

Pomegranate Wine •

Red Wine


Rum •

Soured Milk •

Termite Tequila •

Vodka •

White Wine
Magical:

Athelas Brew •

Dwarven Tonic •

Jungle Remedy •

Miruvor


Morgul-draught •

Orc Draught •

Poison •
Tauredain Cocoa •

Torog Draught


Ent-draughts: Elfsong • Fangorn's Beard • Huorn Leaf
Moonflower • Riverweed • Sunfruit • Tears of Yavanna
Ad blocker interference detected!
Wikia is a free-to-use site that makes money from advertising. We have a modified experience for viewers using ad blockers

Wikia is not accessible if you've made further modifications. Remove the custom ad blocker rule(s) and the page will load as expected.