Vodka is the most powerful drink in the Mod; even a weak potency vodka has an alcoholicity of 4.38%, making drunkenness more than likely – fun when you're with your Hobbit (or Orc) friends, but not so good if you've got a battle coming up. However, 'real men' drink three mugs of aged vodka before a boss battle and use their bare hands to fight. While not recommended, this tactic has actually been proven successful. Vodka is also a good alcoholic drink to drink if you want to get the Alcoholic's Shield.
Vodka can be brewed in a barrel, using the customary three water buckets as well as six potatoes. As for all alcoholic drinks, there are five subsequent potency steps to the brewing process: weak, light, moderate, strong, and potent. Every accomplished step increases the vodka's alcoholicity and effects.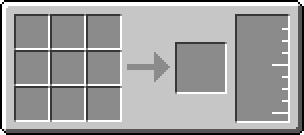 Obtaining
Edit
Vodka can be bought from Southron drink traders, who may be found in bazaars.
Vodka will not give you advantageous effects when consumed other than partly filling up your hunger bar depending upon its potency. It can still be consumed when your hunger bar is full. Vodka will probably, however, give you the Nausea effect, with probability and duration equally depending upon the potency. This is the most powerful alcoholic beverage in the Mod, which means that the effect can last up to six minutes. The only possibility to reduce these negative effects is building up alcohol tolerance.
| Potency | Alcoholicity | Hunger Restored |
| --- | --- | --- |
| Weak | 4.38% | |
| Light | 8.75% | |
| Moderate | 17.5% | |
| Strong | 35% | |
| Potent | 52.5% | |
Non-alcoholic:

Apple Juice •
Berry Juices •

Chocolate •

Grape Juice


Lemonade •

Mango Juice •

Milk •

Orange Juice •

Pomegranate Juice •

Water
Alcoholic:

Ale •
Araq •

Banana Beer •

Cactus Liqueur •

Carrot Wine •
Cherry Liqueur


Cider •

Corn Liquor •

Dwarven Ale •

Lemon Liqueur •

Lime Liqueur •

Maple Beer

Mead •

Melon Liqueur •

Perry •
Plum Kvass •

Pomegranate Wine •

Red Wine


Rum •

Soured Milk •

Termite Tequila •

Vodka •

White Wine
Magical:

Athelas Brew •

Dwarven Tonic •

Jungle Remedy •

Miruvor


Morgul-draught •

Orc Draught •

Poison •
Tauredain Cocoa •

Torog Draught


Ent-draughts: Elfsong • Fangorn's Beard • Huorn Leaf
Moonflower • Riverweed • Sunfruit • Tears of Yavanna
Ad blocker interference detected!
Wikia is a free-to-use site that makes money from advertising. We have a modified experience for viewers using ad blockers

Wikia is not accessible if you've made further modifications. Remove the custom ad blocker rule(s) and the page will load as expected.