"
Evermind they are called, simbelmynë in this land of Men, for they blossom in all the seasons of the year, and grow where dead men rest.
"

–The Two Towers, The King of the Golden Hall

Simbelmynë, pronounced "Symbelmoone" is a rare flower that grows in Rohan. Ever has it grown on the tombs of the kings of Rohan, and so it ever shall. Digging into a small hill with simbelmynë on top will reveal a tomb with valuable loot. For more information on these tombs, see Rohan Barrow.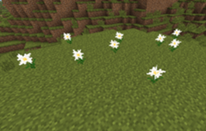 They have also been rumored to spawn frequently in the Uruk Highlands.
Besides of crafting them into dye, they have very little practical purpose, though these charming little flowers make for an excellent addition to your garden.
This flower can be used in a regular crafting table or the player's inventory to create white dye, alike to other mod flowers.
The One Wiki to Rule Them All has an article on:
Asphodel •

Athelas •

Black Iris •

Bluebell •

Chrysanthemum


Clover •

Dwarfwort •

Elanor •

Flame of Harad •

Harad Daisy


Marigold •

Morgul-flowers •

Hibiscus •

Niphredil •

Sand Gem


Southbell •
Shire Heather •

Simbelmynë •

Thistle •

Yellow Iris


Elfsong •

Fangorn's Beard •

Huorn Leaf •

Moonflower


Riverweed •

Sunfruit •

Tears of Yavanna
Ad blocker interference detected!
Wikia is a free-to-use site that makes money from advertising. We have a modified experience for viewers using ad blockers

Wikia is not accessible if you've made further modifications. Remove the custom ad blocker rule(s) and the page will load as expected.