This Article/Section needs a new image!

Rivendell shovel needs added to the picture.
After you fix this article, please remove this template.
A shovel is a tool used mainly for mining dirt, sand, gravel, and other similar substances. With those substances being quite easy to mine in the first place, shovels are extremely efficient at their job. Such efficiency is what makes shovels valuable tools for collecting large quantities of dirt-like materials.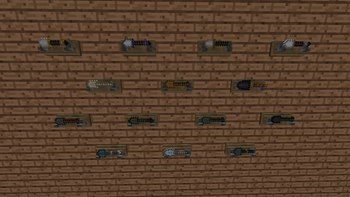 First Row: Wood-elven, Mordor

Second Row: Lindon, Dwarven, Mithril, Angmar

Third Row: Blue Dwarven, Mallorn, Uruk

Fourth Row: Taurethrim, Galadhrim, Bronze, Dol Guldur
List of Shovels
Edit
Below is a list of every shovel added in by the Mod, along with their crafting recipes and durabilities, organized from least durability to greatest durability. All shovels follow the same crafting pattern of their respective ingot along with two sticks of any kind, on their respective crafting table.
Shovel Crafting Recipes
Crafting Recipe
Durability

200

230

300

350

350

400

500

550

600

650

700

700

700

2400