This page describes a feature from vanilla Minecraft.

To view the corresponding page on the Minecraft Wiki, click here.

"
What's taters, precious, eh, what's taters?
"

–Sméagol/Gollum, The Two Towers (Literature)

Potatoes are a food from Vanilla that can be found in Middle-earth. They can be grown as crops or found as loot in many structures of the Shire. They are sold (baked) and bought (raw) by Hobbit bartenders and sold by Hobbit farmers.
The player can get the achievement "Boil 'Em, Mash 'Em..." for buying potatoes from a Hobbit farmer. They are the gaffer's delight, and are good ballast for an empty stomach.
Obtaining
Edit
Like carrots and lettuce, potatoes are a seedless crop, meaning the raw potato itself can be planted in tilled dirt to grow into new potato plants. They can be bought from Hobbit farmers and found in most Hobbit structures.
This crop is able to be cultivated by farmhands and can be found growing in Shire-farms.
Raw potatoes restore 1 (

) hunger point each. When baked in a furnace or Hobbit oven, they each restore 6 (

) hunger points (in vanilla 1.8 reduced to 5 (

)). The rare (1 in 50) variant, the poisonous potato, restores 2 (

) hunger points, and has a 60% chance of applying 4 seconds of the poison effect when eaten.
Raw potatoes can also be used to craft rabbit stew and leek soup, as well as be brewed into vodka.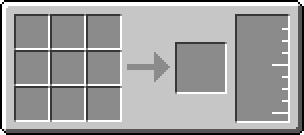 Food of Middle-earth
Breads:
Banana Bread •

Bread •

Corn Bread


Cram •

Lembas •

Maggoty Bread •

Olive Bread
Cakes:

Banana Cake •

Cake (The Lie) •

Lemon Cake
Pastry:

Apple Crumble •

Berry Pie •

Cherry Pie •

Dalish Pastry •

Marchpane •
Pumpkin Pie
Fruits:

Almond •

Apple •

Banana •

Berries •

Cherry •

Date •

Grapes


Lemon •

Lime •

Mango •

Melon •

Olives •

Orange •

Pear •

Plum •

Pomegranate
Meats:

Beef/Steak •

Camel Meat •

Chicken •

Gammon •

Kebab •

Lion Meat


Man-flesh •

Mutton •
Porkchop •
Rabbit Meat •

Rhino Meat


Rotten Flesh •

Suspicious Meat •

Venison •

Zebra Meat
Nuts:

Mallorn Nut •

Roast Chestnut
Soups:

Leek Soup •

Melon Soup •

Mushroom Stew •

Rabbit Stew •

Torog Stew
Vegetables:

Carrot •

Corn •
Leek •
Lettuce •

Morgul-shroom


Mushroom •

Potato •

Turnip •

Wheat •

Yam
Other:

Egg •

Fish •

Hobbit Pancake •

Maple Syrup •

Raisins •

Salt •

Sugar Lump (removed)


Apple •

Athelas •

Banana •

Bone •

Cactus •

Carrot


Cherry •

Corn •

Date •

Dirt •

Dwarfwort •

Elanor •

Grapes


Lemon •

Lime •

Mallorn Nut •

Maple Syrup •

Melon •

Niphredil


Milk •

Mithril Nugget •

Morgul-shroom •

Morgul-flowers •

Pear


Plum •

Pomegranate •

Potato •

Rhino Horn •

Rotten Flesh


Sugar •

Sugar Cane •

Termite •

Wheat
Ad blocker interference detected!
Wikia is a free-to-use site that makes money from advertising. We have a modified experience for viewers using ad blockers

Wikia is not accessible if you've made further modifications. Remove the custom ad blocker rule(s) and the page will load as expected.