Orc beds act like vanilla beds and can be used by everyone, even players who have negative alignment with any Orc factions. Currently there are no structures which naturally spawn these beds.
Note that player respawning is changed by the Mod. Follow the link for more details.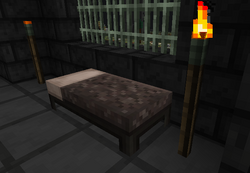 Crafting
Edit
It is crafted like a regular bed in any of the Orcish crafting tables and the Half-troll crafting table.
Ad blocker interference detected!
Wikia is a free-to-use site that makes money from advertising. We have a modified experience for viewers using ad blockers

Wikia is not accessible if you've made further modifications. Remove the custom ad blocker rule(s) and the page will load as expected.