This page describes a feature from vanilla Minecraft.

To view the corresponding page on the Minecraft Wiki, click here.

Mushroom stew is a vanilla food type made of, as the name suggests, mushrooms (red and brown).
Milking Mooshrooms
Edit
Mushroom stew can be obtained by "milking" (right-clicking) a mooshroom (bovine animal found in the overworld) with an empty bowl. The bowl will be filled with the mushroom stew.
(No Mooshrooms spawn in Middle earth)
If a stack of bowls is used on a mooshroom, only one bowl is filled, and the mushroom stew will go into an empty inventory slot, or be dropped if the player's inventory is full.
Crafting
Edit
A bowl of mushroom stew restores 6 (

) and 7.2 saturation points.
The bowl is returned to the player empty after the stew has been eaten, and can be re-used to craft more.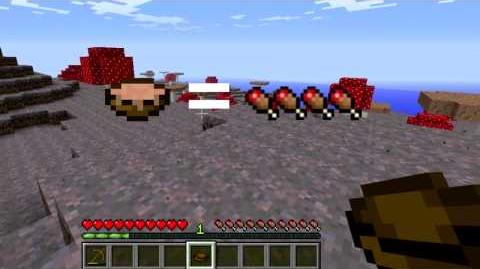 The video shows how to make mushroom stew.
Note: Mushroom stew no longer restores 8 (

) hunger points, but 6 (

).
Food of Middle-earth
Breads:
Banana Bread •

Bread •

Corn Bread


Cram •

Lembas •

Maggoty Bread •

Olive Bread
Cakes:

Banana Cake •

Cake (The Lie) •

Lemon Cake
Pastry:

Apple Crumble •

Berry Pie •

Cherry Pie •

Dalish Pastry •

Marchpane •
Pumpkin Pie
Fruits:

Almond •

Apple •

Banana •

Berries •

Cherry •

Date •

Grapes


Lemon •

Lime •

Mango •

Melon •

Olives •

Orange •

Pear •

Plum •

Pomegranate
Meats:

Beef/Steak •

Camel Meat •

Chicken •

Gammon •

Kebab •

Lion Meat


Man-flesh •

Mutton •
Porkchop •
Rabbit Meat •

Rhino Meat


Rotten Flesh •

Suspicious Meat •

Venison •

Zebra Meat
Nuts:

Mallorn Nut •

Roast Chestnut
Soups:

Leek Soup •

Melon Soup •

Mushroom Stew •

Rabbit Stew •

Torog Stew
Vegetables:

Carrot •

Corn •
Leek •
Lettuce •

Morgul-shroom


Mushroom •

Potato •

Turnip •

Wheat •

Yam
Other:

Egg •

Fish •

Hobbit Pancake •

Maple Syrup •

Raisins •

Salt •

Sugar Lump (removed)

Ad blocker interference detected!
Wikia is a free-to-use site that makes money from advertising. We have a modified experience for viewers using ad blockers

Wikia is not accessible if you've made further modifications. Remove the custom ad blocker rule(s) and the page will load as expected.