Morgul-shrooms are edible mushrooms found in Mordor.
They restore 4 (

) hunger points and can be used to brew Orc draught. Eating the mushroom for the first time will earn you the achievement Survivalist.
If you don't have positive alignment with Mordor, eating these mushrooms will poison you.
Obtaining
Edit
They spawn in farms of eight in camps and can be bought from a Near Harad plant trader.
Morgul-shrooms can be eaten to restore 4 (

). They are also a crucial ingredient when brewing Orc draught, as seen below.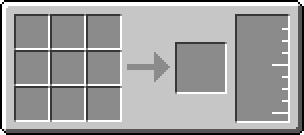 Morgul-shrooms can be farmed: When a mushroom is placed on
Mordor rock
in any biome with water nearby, over time, it will multiply and the mushrooms will spread over the land. Morgul-shrooms, like
vanilla mushrooms
, will only spread in dark areas.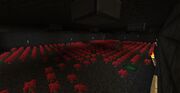 Food of Middle-earth
Breads:

Banana Bread •

Bread •

Corn Bread


Cram •

Lembas •

Maggoty Bread •

Olive Bread
Cakes:

Banana Cake •

Cake (The Lie) •

Lemon Cake
Pastry:

Apple Crumble •

Berry Pie •

Cherry Pie •

Dalish Pastry •

Marchpane •
Pumpkin Pie
Fruits:

Almond •

Apple •

Banana •

Berries •

Cherry •

Date •

Grapes


Lemon •

Lime •

Mango •

Melon •

Olives •

Orange •

Pear •

Plum •

Pomegranate
Meats:

Beef/Steak •

Camel Meat •

Chicken •

Gammon •

Kebab •

Lion Meat


Man-flesh •

Mutton •
Porkchop •
Rabbit Meat •

Rhino Meat


Rotten Flesh •

Suspicious Meat •

Venison •

Zebra Meat
Nuts:

Mallorn Nut •

Roast Chestnut
Soups:

Leek Soup •

Melon Soup •

Mushroom Stew •

Rabbit Stew •

Torog Stew
Vegetables:

Carrot •

Corn •
Leek •
Lettuce •

Morgul-shroom


Mushroom •

Potato •

Turnip •

Wheat •

Yam
Other: Block of Kebab •

Egg •

Fish •

Hobbit Pancake •

Maple Syrup •

Raisins •

Salt •

Sugar Lump (removed)


Apple •

Athelas •

Banana •

Bone •

Cactus •

Carrot


Cherry •

Corn •

Date •

Dirt •

Dwarfwort •

Elanor •

Grapes


Lemon •

Lime •

Mallorn Nut •

Maple Syrup •

Melon •

Niphredil


Milk •

Mithril Nugget •

Morgul-shroom •

Morgul-flowers •

Pear


Plum •

Pomegranate •

Potato •

Rhino Horn •

Rotten Flesh


Sugar •

Sugar Cane •

Termite •

Wheat