The Moredain crafting table is a faction crafting table used to craft Moredain faction items, including equipment, armour, banners, bricks, and more.
In order to use this table, you need at least +1 alignment with the Moredain faction. If you attempt this without the alignment, the crafting table will simply emit a puff of smoke and a message will appear in the chat notifying you of the alignment requirement.
Crafting an item on this table gives the achievement "Moredain Crafter".
Obtaining
Edit
The Moredain crafting table is found naturally spawning in villages and camps.
The table itself is crafted using two wood planks and two hardened clay. As with all other faction crafting tables, it can only be crafted on another table of its kind, so it is necessary to first find a table in the world before crafting Moredain items.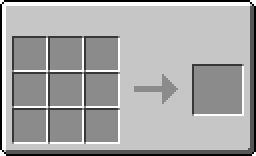 Crafting Recipes
Edit
Ad blocker interference detected!
Wikia is a free-to-use site that makes money from advertising. We have a modified experience for viewers using ad blockers

Wikia is not accessible if you've made further modifications. Remove the custom ad blocker rule(s) and the page will load as expected.