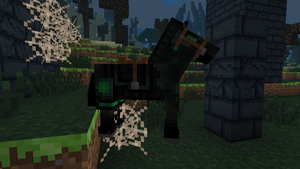 Horse armour
is one of the many different types of mount armour added by the mod. There are eleven Middle-earth variations, and the three vanilla ones are now craftable for Middle-earth horses.
Note that the vanilla horse armour and Middle-earth horse armour are now listed as separate items, even though they may look and act the same (e.g. diamond horse armour). You can not put vanilla horse armour on a Middle-earth horse or vice versa.
Obtaining
Edit
Some horses, namely those ridden by NPCs, may naturally spawn wearing horse armour. Examples of this include horses of the Rohirrim, Swan Knights, Gondor Soldiers, and more. The armour can drop rarely when the horse is slain.
Natural generation
Edit
Many generated structures have a chance of generating horse armour. Generally, the best places to find horse armour are militaristic structures, such as fortresses and watchtowers.
The horse armour of different factions can be crafted on that faction's crafting table (ie. Morgul horse armour is made on a Morgul crafting table).
The many types of horse armour available are crafted with their respective ingot or material and one piece of leather. The type of crafting table required may also vary.
Horse Armour Crafting Recipes
Recipe
Protection

16 ()

16 ()

16 ()

14 ()

16 ()

14 ()

16 ()

16 ()

16 ()

19 ()

16 ()

16 ()

The Men of Gondor

NPCs: Gondorian • Levyman • Soldier (Archer, Banner Bearer, Tower Guard)
Traders: Captain • Market Traders
Items: Armour (Horse) • Bow • Equipment
Blocks: Beacon • Brick (Cobble) • Casket • Crafting Table
Structures: Beacon Tower • Fortress • Obelisk • Ruined Tower • Ruins • Settlements • Turret • Watchfort

The Soldiers of the Blackroot Vale

NPCs: Soldier (Bowman)
Traders: Bowlord
Items: Armour • Bow
Blocks: Blackroot

The Knights of Dol Amroth
Man-at-arms (Archer) • Swan Knight (Banner Bearer)
Traders: Captain
Items: Armour (Horse) • Equipment • Swan Feather
Blocks: Brick • Crafting Table
Structures: Stable

The Rangers of Ithilien

NPCs: Ranger of Ithilien
Traders: Captain
Items: Armour
Structures: Hideout

The Hillmen of Lamedon

NPCs: Warrior (Archer, Hillman)
Traders: Captain
Items: Armour • Gambeson

The Folk of Lebennin


The Mountaineers of Lossarnach

The Mariners of Pelargir


The Warriors of Pinnath Gelin

The High Elves of the West
Good:

Arnorian •

Blackroot Vale •

Blue Dwarven •
Dalish •

Dol Amroth •

Dorwinion (

Elven)


Dwarven (

Trimmed) •

Galadhrim •

Galvorn •

Gondolinian •

Gondorian


Ithilien Ranger •

Lamedon •
Lindon •

Lossarnach •

Pelargir •

Pinnath Gelin


Ranger •

Rivendell •

Rohirric (

Marshal) •

Tauredain (

Gold) •

Wood-elven (

Scout)
Evil:

Angmar •

Black Uruk •

Dol Guldur •

Dunlending •

Gundabad Uruk


Half-troll •

Haradric •

Mordor •

Moredain (

Chieftain)

Morgul •
Rhûnic (
Golden) •

Uruk •

Utumno
Not Faction Specific:
Ancient •

Bone •

Bronze •

Fur •

Gemsbok Hide • Gold • Iron • Leather •

Mithril
Clothing Items:

Galadhrim Cloak •

Gambeson •

Harad Robes •

Kaftan •

Leather Hat •

Party Hat
Mount Armour:
Ad blocker interference detected!
Wikia is a free-to-use site that makes money from advertising. We have a modified experience for viewers using ad blockers

Wikia is not accessible if you've made further modifications. Remove the custom ad blocker rule(s) and the page will load as expected.