This Article/Section is Marked for Review!

Fiefdom stuff needs to be added
After you fix this article, please remove this template.

The Gondorian crafting table is required to create Gondor armour and tools, as well as working with Gondor rock. They are also used to craft armour and weapons for all the fiefdoms of Gondor except Dol Amroth.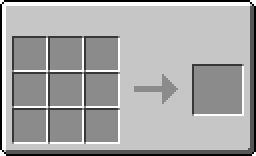 They spawn in Middle-earth, in fortresses, smithies and ruined towers or can be crafted with Gondor rock and wood planks of any type on another Gondorian crafting table.
In addition, the player must have at least +1 Gondor alignment to use this crafting table. Otherwise, right-clicking on the crafting table will only emit a puff of smoke.
Upon crafting an item on a Gondorian crafting table, the player earns the achievement "Gondorian Crafter".
Crafting Recipes
Edit

The Men of Gondor

NPCs: Gondorian • Levyman • Soldier (Archer, Banner Bearer, Tower Guard)
Traders: Captain • Market Traders
Items: Armour (Horse) • Bow • Equipment
Blocks: Beacon • Brick • Casket • Crafting Table
Structures: Beacon Tower • Fortress • Obelisk • Ruined Tower • Ruins • Settlements • Turret • Watchfort
The Men of the Blackroot Vale

NPCs: Soldier (Bowman)
Traders: Bowlord
Items: Armour • Bow
Blocks: Blackroot

The Men of Dol Amroth

Man-at-arms (Archer) • Swan Knight (Banner Bearer)
Traders: Captain
Items: Armour (Horse) • Equipment • Swan Feather
Blocks: Brick • Crafting Table
Structures: Stable

The Rangers of Ithilien

NPCs: Ranger of Ithilien
Traders: Captain
Items: Armour
Structures: Hideout

The Men of Lamedon

NPCs: Warrior (Archer, Hillman)
Traders: Captain
Items: Armour • Gambeson

The Men of Lebennin


The Men of Lossarnach


The Men of Pelargir


The Men of Pinnath Gelin

Ad blocker interference detected!
Wikia is a free-to-use site that makes money from advertising. We have a modified experience for viewers using ad blockers

Wikia is not accessible if you've made further modifications. Remove the custom ad blocker rule(s) and the page will load as expected.