Elven steel is the basic ingredient in all Elven equipment and Elven armour. It is also used in crafting Elven steel bars and chandeliers.
Obtaining
Edit
Elven steel is an alloy made in the Elven forge. It is made by alloying iron ingots/ore with coal/charcoal.
Upon smelting Elven steel, the player earns the achievement "Elven Smith".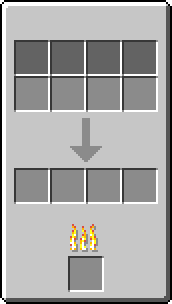 It is used to make and repair Lindon, Galadhrim, Dorwinion, Rivendell and Wood-elven equipment, armour, steel bars, and chandeliers. It can also be used to repair Gondolinian swords and armour.

Like other metals and crystals, Elven steel can be stored in a block by putting nine Elven steel ingots in the vanilla crafting table.
Ad blocker interference detected!
Wikia is a free-to-use site that makes money from advertising. We have a modified experience for viewers using ad blockers

Wikia is not accessible if you've made further modifications. Remove the custom ad blocker rule(s) and the page will load as expected.