}
"
At the feet of the trees, and all about the green hillsides the grass was studded with small golden flowers shaped like stars.
"

–The Fellowship of the Ring, Lothlórien

Elanor is a commonly appearing, yellow, star-shaped flower found spawning naturally in the Elvish realm of Lothlórien. The word Elanor means Sun-Star in Sindarin. They can be bought from a Galadhrim trader.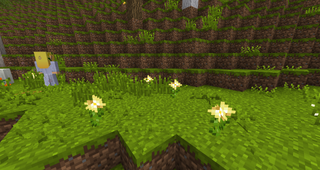 Elanor flowers can be crafted into yellow dye.
They are also used to brew Miruvor, or to activate an Elven portal. They can be used for decoration and, on occasion, in Elven mini-quests.
Sam Gamgee´s first child was named after this flower.
The look of Elanor was changed in Public Beta 29 to a more slender and elegant form (the old form is shown below).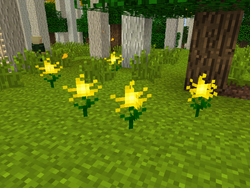 The Tolkien Gateway has an article on:
The One Wiki to Rule Them All has an article on:
Asphodel •

Athelas •

Black Iris •

Bluebell •

Chrysanthemum


Clover •

Dwarfwort •

Elanor •

Flame of Harad •

Harad Daisy


Marigold •

Morgul-flowers •

Hibiscus •

Niphredil •

Sand Gem


Southbell •
Shire Heather •

Simbelmynë •

Thistle •

Yellow Iris


Elfsong •

Fangorn's Beard •

Huorn Leaf •

Moonflower


Riverweed •

Sunfruit •

Tears of Yavanna

Apple •

Athelas •

Banana •

Bone •

Cactus •

Carrot


Cherry •

Corn •

Date •

Dirt •

Dwarfwort •

Elanor •

Grapes


Lemon •

Lime •

Mallorn Nut •

Maple Syrup •

Melon •

Niphredil


Milk •

Mithril Nugget •

Morgul-shroom •

Morgul-flowers •

Pear


Plum •

Pomegranate •

Potato •

Rhino Horn •

Rotten Flesh


Sugar •

Sugar Cane •

Termite •

Wheat
Ad blocker interference detected!
Wikia is a free-to-use site that makes money from advertising. We have a modified experience for viewers using ad blockers

Wikia is not accessible if you've made further modifications. Remove the custom ad blocker rule(s) and the page will load as expected.