Edhelmir ore is a semi-rare ore exclusive to Lothlórien, Lindon and Rivendell, and it can be found underground in these places below layer 48. Its name is derived from the Elvish word for the race of the Elves, Edhel, and the word for jewel, mir. It is translated as 'Elven jewel'.
Edhelmir ore is recognisable by its bright blue colour.
Mining it gives the achievement "Glittering Depths".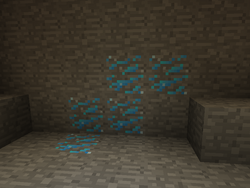 A pickaxe of at least iron or equivalent strength is required to mine this ore.
When broken, the ore drops one Edhelmir Crystal, which has a variety of uses from crafting items to creating Elven portals. They can also be alloyed with iron ore in a Dwarven forge to produce Galvorn ingots. They can also be used in the creation of an Edhelmir block.
Occurence
Edit
The chance of a vein to generate in any layer below y=48 is 6 per chunk. The maximum vein size is 6 ore blocks. For reference: The chance of Glowstone ore vein generation in the Iron Hills, Erebor, and the Red Mountains is equivalent to 8 veins of maximum 4 ore blocks per chunk in the same layers.
Ad blocker interference detected!
Wikia is a free-to-use site that makes money from advertising. We have a modified experience for viewers using ad blockers

Wikia is not accessible if you've made further modifications. Remove the custom ad blocker rule(s) and the page will load as expected.