Apple crumble is another type of pastry made from apples, typical of the Shire; it can be found in Hobbit holes and can also be crafted.
Crafting
Edit
Apple crumbles can be crafted on the normal crafting table with wheat, milk, sugar, and apples. You can use red, green or a combination of both apples for this recipe.
Making an apple crumble for the first time grants you the achievement "Traditional Dish".
Obtaining
Edit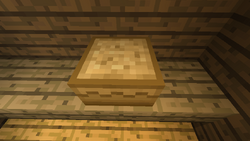 One way to get apple crumbles (aside from crafting) is to find them inside a Hobbit hole and break it to get the item, There is a chance that one or two apple crumbles may spawn on a shelf in the hole's pantry. They can also be found in a Dalish bakery, as one of the many possible pastries on display.
Like a normal cake, the crumble can be eaten once it is placed by right-clicking on it. It restores 2 (

) per slice for a total of six slices, making 12 (


) in total.
Food of Middle-earth
Breads:
Banana Bread •

Bread •

Corn Bread


Cram •

Lembas •

Maggoty Bread •

Olive Bread
Cakes:

Banana Cake •

Cake (The Lie) •

Lemon Cake
Pastry:

Apple Crumble •

Berry Pie •

Cherry Pie •

Dalish Pastry •

Marchpane •
Pumpkin Pie
Fruits:

Almond •

Apple •

Banana •

Berries •

Cherry •

Date •

Grapes


Lemon •

Lime •

Mango •

Melon •

Olives •

Orange •

Pear •

Plum •

Pomegranate
Meats:

Beef/Steak •

Camel Meat •

Chicken •

Gammon •

Kebab •

Lion Meat


Man-flesh •

Mutton •
Porkchop •
Rabbit Meat •

Rhino Meat


Rotten Flesh •

Suspicious Meat •

Venison •

Zebra Meat
Nuts:

Mallorn Nut •

Roast Chestnut
Soups:

Leek Soup •

Melon Soup •

Mushroom Stew •

Rabbit Stew •

Torog Stew
Vegetables:

Carrot •

Corn •
Leek •
Lettuce •

Morgul-shroom


Mushroom •

Potato •

Turnip •

Wheat •

Yam
Other:

Egg •

Fish •

Hobbit Pancake •

Maple Syrup •

Raisins •

Salt •

Sugar Lump (removed)

Ad blocker interference detected!
Wikia is a free-to-use site that makes money from advertising. We have a modified experience for viewers using ad blockers

Wikia is not accessible if you've made further modifications. Remove the custom ad blocker rule(s) and the page will load as expected.